Full Induction Programme
By choosing the Full Induction Programme (FIP) schools are eligible for additional funding, their ECTs receive high quality fully facilitated local and regional training sessions and schools pay less for their Appropriate Body registration fees. This combined package, frees up staff to focus on other school priorities.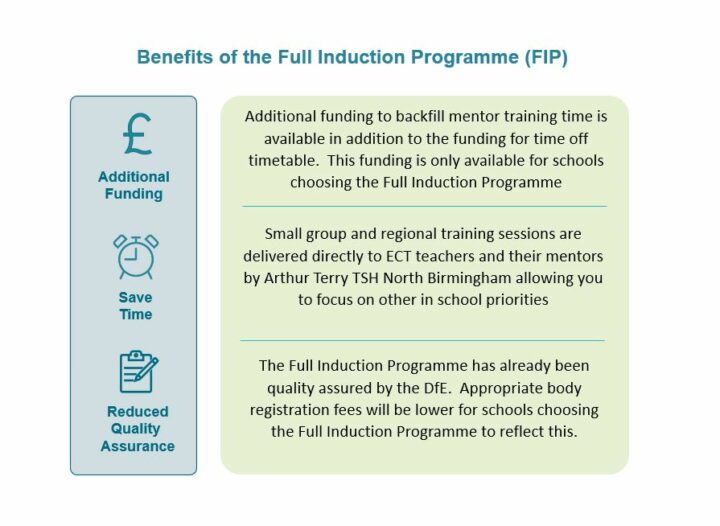 The Arthur Terry Teaching School Hub North Birmingham is working with the Education Development Trust to deliver the Full Induction Programme which is fully funded for all schools in North Birmingham. The Education Development Trust have worked closely with schools and the Sheffield Institute of Education, part of Sheffield Hallam University to develop this evidence-led programme to ensure it is based on what really works and how pupils learn.
Early career teachers will be provided with opportunities to learn the theory, put theory into practice, and reflect on personal and professional development with the support of their mentor. Activities include:
Face-to-face and webinar sessions with expert input from specialist organisations, exploring effective classroom practice across settings, phases and specialisms.
Regional and local training sessions delivered by facilitators from the Arthur Terry Teaching School Hub, North Birmingham.
Regular mentoring sessions centring around the benefits of Instructional Coaching and exploring content with a focus on learning, practising, and reflecting.
Opportunities for reflection and discussion as well as carefully timed self-study.
This Programme is centred around developing the mentor relationship and includes a focussed learning pathway for mentors.
In addition to support your early career teachers, we will also work with your in-school mentors to learn new mentoring and coaching techniques, enabling them to strengthen essential skills that they can use throughout their careers. Specialist training and support will ensure each mentor is confident in their knowledge of the Early Career Framework and develops their mentoring skills so that the early career teachers they work with get the very best from the Programme.
Download the Educational Development Trust's guide to their ECF programme.
Register Now
To register for the Full Induction Programme through the Arthur Terry TSH North Birmingham schools need to:
Register with the Education Development Trust here and select The Arthur Terry Teaching School Hub – North Birmingham as the Delivery Partner.

Register with the DfE and nominate your induction tutor. All maintained schools and academies have been sent an e-mail invite from the DfE. The invite will have been sent to the email address(es) registered against the school in GIAS (Get Information About Schools). If you cannot find your original invite, visit https://manage-training-for-early-career-teachers.education.gov.uk/ and regenerate a new email invite.