Full Induction Programme
The Arthur Terry TSH, North Birmingham is working with Education Development Trust (EDT) to deliver the Full Induction Programme which is fully funded for all schools in North Birmingham. Education Development Trust have worked closely with schools and the Sheffield Institute of Education, part of Sheffield Hallam University to develop an evidence–led programme which is based on what really works in classrooms and how pupils learn.
What will it look like in my school?
Early career teachers will be provided with opportunities to learn the theory, put the theory into practice, and reflect on personal and professional development with the support of their mentor. The programme includes:
Weekly self-study activities (accessed through an online platform) which explore the evidence base and prompt personal reflection.
Weekly mentoring sessions with a dedicated mentor in school. The mentor sessions use the principles of instructional coaching to support ECTs to learn and reflect as well as identifying targets to move classroom practice forward.
Opportunities to develop relationships with other ECTs working in similar contexts, phases or subject specialisms across North Birmingham.
This programme is centered around developing the mentor-ECT relationship and also includes a focused learning pathway for mentors. Specialist training and support will ensure each mentor is confident in their knowledge of the Early Career Framework. Mentors will also develop their understanding of mentoring and coaching so that the ECTs they work with are able to get the very best from the programme.
Why choose the Full Induction Programme?
The Full Induction Programme is fully accredited and quality assured by the DfE. By choosing this ECF delivery option, ECTs and mentors in your school will benefit from a high-quality fully-facilitated programme which frees up leaders in school to focus on other school priorities. In addition, schools who choose the Full Induction Programme are eligible for additional funding to backfill mentor training time as well as paying less for their Appropriate Body registration fees.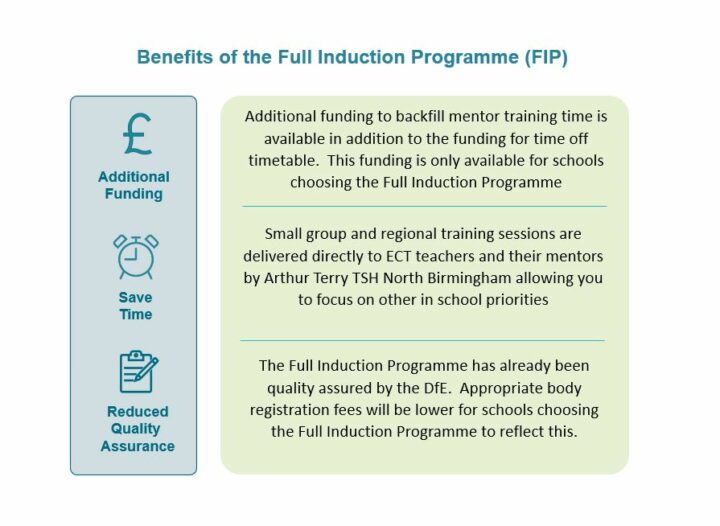 Download Educational Development Trust's guide to their ECF programme.