Early Career Framework
The ECF programme is the statutory ECT professional development programme.
From September 2021, the ECF reforms will entitle all early career teachers to a fully-funded, two-year package of structured training and support linked to the best available research evidence.
What's changed?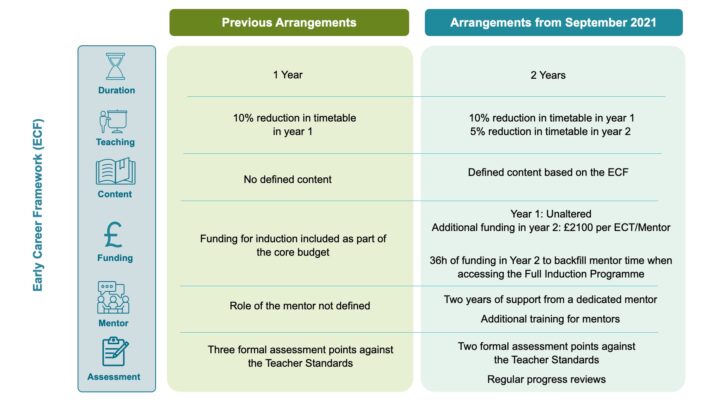 The two-year ECF programme provides teachers with the essential specialist support they need to improve their practice and build confidence following their Initial Teacher Training. It will arm early career teachers with skills they can use in the classroom straight away and offer the structured support needed to help them be the best teachers they can be.
Delivery Options for Schools
Option 1: Use a DfE funded training provider (Previously called the FIP)
Schools use their local teaching school hub and a lead provider to deliver the ECF programme and to fulfil their statutory induction requirements. Find out more.
Option 2: Use DfE accredited materials to deliver your own training
(Previously called the CIP)
Schools deliver an induction programme in their own school using high quality materials and resources, accredited by the DfE. In addition to using the self-study ECT and mentor resources, schools are also responsible for delivering small group training sessions to their ECTs and mentors which explore the ECF evidence base.
Option 3: Design and deliver your own ECF training programme.
Schools design and deliver their own induction programme based on the ECF.
For additional information about the different ECF delivery options available please see: Guidance for schools: how to manage ECF-based training – GOV.UK (www.gov.uk)
For information about ECF funding please see: Funding and eligibility for ECF-based training – GOV.UK (www.gov.uk)
Options Explained